The Evolution of Open-Source: Journey from Software to Science
When hearing the term "open-source," software and IT are what come to mind. But, as the world evolves, this new model is gaining popularity in a variety of fields from business to science.
Phi Beta Iota: They obviously have not seen the graphics nor read the books by Robert David Steele, but this is never-the-less a useful acknowledgement.
Steele, Robert, REINVENTING ENGINEERING: The Ultimate Hack — Creating a Prosperous World at Peace with Open Source Everything (Amazon CreateSpace, Earth Intelligence Network, 2020).
Holistic analytics, true cost economics, and Open Source Everything Engineering (OSEE) are the non-negotiable enablers of the post-Western economy, probably led by the Chinese since the Americans have refused to listen to me for 30 years. To create a prosperous world at peace, a world that works for all, we need the reinstall ethics as an operating system, refocus on human capital, and understand that online economies cannot exist in isolation — one reason I think Tencent might be positioned to bring its online-offline vision to the world, and be the primary actor in laying down a cyber-grid on top of the physical One Belt One Road.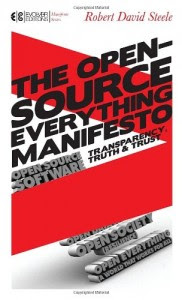 Steele, Robert (2012). The Open-Source Everything Manifesto: Transparency, Truth, and Trust, North Atlantic Books, June 5, 2012. 240 pages. KINDLE $8.76, PAPER $10.53.

What the world lacks right now—especially the United States, where every form of organization from government to banks to labor unions has betrayed the public trust—is integrity. Also lacking is public intelligence in the sense of decision-support: knowing what one needs to know in order to make honest decisions for the good of all, rather than corrupt decisions for the good of the few.
The book is intended to be a catalyst for citizen dialog and deliberation, and for inspiring the continued evolution of a nation in which all citizens realize our shared aspiration of direct democracy—informed participatory democracy. Open-Source Everything is a cultural and philosophical concept that is essential to creating a prosperous world at peace, a world that works for one hundred percent of humanity. The future of intelligence is not secret, not federal, and not expensive. It is about transparency, truth, and trust among our local to global collective. Only "open" is scalable.